Guide and video tutorial on how to use the Flipgrid app
Last year I discovered the Flipgrid tool that I'm going to talk to you about in detail today. Flipgrid is an online application that allows you to give prominence to your students , where you can record, either explaining something, giving an opinion or what you propose, and everything will be collected in a video in the application, where you can then supervise all the videos recorded by each student in the class. It is a platform where you can see oral responses on video from your students.
Flipgrid's potential is enormous, when I started testing it I realized that I could get a lot out of it. At the beginning my students were reluctant to record themselves, because as teenagers they are, until a few are encouraged, they do not infect others, but little by little I did it, and now they love it.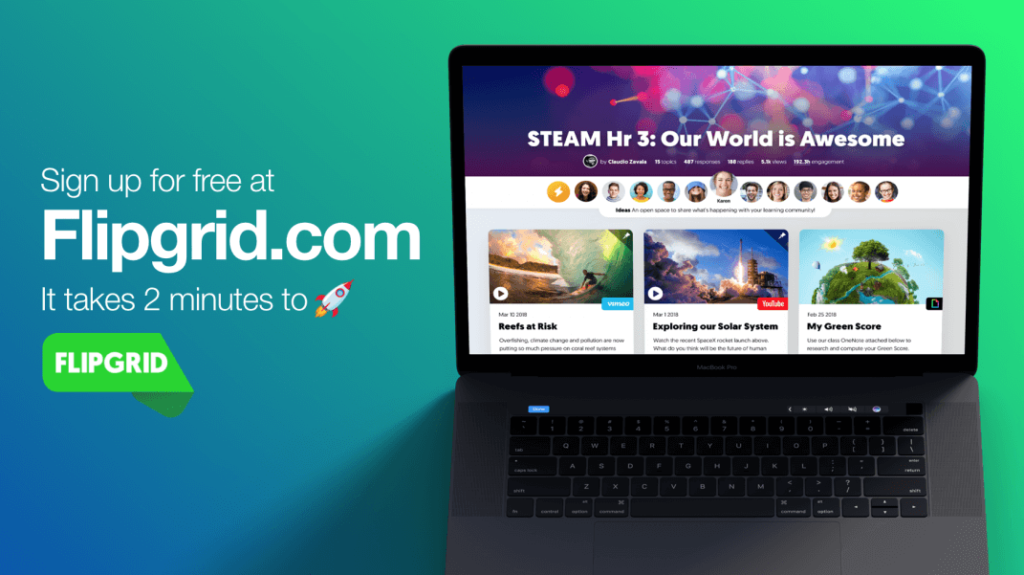 Knowing the parts of Flipgrid
Before everything, it is necessary to clarify several concepts to use Flipgrid . Registering as a teacher is totally free, and the good thing is that the students to send their videos only need the code of your class, they do not have to make a previous registration or put their email if they do not want or anything like that. When we enter Flipgrid above we find several parts, in My Grids we find the GRIDS, which is where we create our classes. Each class automatically provides you with a code , or you can also personalize it with the code you want. You share this code with the class and from there the students can answer the questions.
Once the classes are created, within them you can create the TOPICS, which is what they call the class questions you want to ask. In this case, I have started asking questions related to each unit, thus working on specific learning standards. For them, I designed a rubric of how I was going to evaluate the questions in Flipgrid, so that I could guide the students in how I wanted them to answer the questions correctly. The topics are customizable, you can put an image, title, explanations and even an expiration date, so that the students have a time to answer and then they no longer allow you to upload the video so you can calmly correct them from the stipulated date.
Take oral tests with Flipgrid
As a teacher, it has greatly facilitated the task of orally evaluating the students one by one, because now I can calmly watch each video and evaluate it. You have examples in this 2nd ESO Grid and in this 4th ESO Grid how I have been working with Flipgrid this first quarter. The results have been very positive, and I am already devising other projects with this tool that I will tell you about later.
In the section above, Dashboard , we find our cover, where we make a count of the videos made, the videos viewed and a summary of the activity of your account, which encourages you to continue using it. They are also very active on social networks, and by following them on Twitter or using the hashtag #flipgridfever , you can see everything that is done with this tool.
Types of accounts on Flipgrid
My surprise is that I have been named Flipgrid Ambassador, where I am learning incredible things from other teachers in the world and that I will tell you more ideas about this tool on my blog. And in addition to this, they have given me the opportunity to have a promo code so that any teacher who introduces it has a two-month free trial of Flipgrid Classroom , so if you dare to try it, enter the promo code ROSA and enjoy it.
Anyway, everything I have told you here is explained in a step-by-step video tutorial that I have prepared for you on my YouTube channel so that you understand the tool better and can enjoy Flipgrid in your classes.
What do you think? Leave me your impressions, examples and ideas, and so we enrich each other how to use Flipgrid in the classroom. I hope you like the video tutorial!
Download Flipgrid
I leave you a link below to download your application for both iOS and Android.