What is an LxP? 
Two years into the Covid-19 pandemic, more than half the schools across the globe have been closed or negatively impacted due to a lack of proper digital learning tools. Nonetheless, the education space has pushed to move from disruption to recovery. Many have leveraged Learning Management Systems (LMS), but recently, more have taken up Learning eXperience Platforms (LXP) too.

Learning eXperience Platforms or LxPs offer a bottom-up learning environment. Glorified with an advanced AI engine, impressive search capabilities, third-party integrations, intuitive user interface, and powerful data tracking, they are referred to as the "Netflix of Learning". Unlike an LMS that pushes learning to students, LxPs facilitate learning initiated by the student. 
LxPs are popularly synonymous with Netflix in the entertainment industry. Television schedules and formats have traditionally been predetermined by TV networks. That means viewers would subscribe to a fixed schedule and have no choice but to watch whatever happens to be playing at the time they tune in.
Not long ago, however, streaming services like Netflix came along and disrupted the viewer experience by offering on-demand shows. Gone are the days when viewers would wait days to watch their desired shows. Instead, viewers no longer need to rely on TV and can, instead, turn to Netflix to watch whatever they want, whenever they want.
Similarly, LXPs have changed the game for long-time LMS users. Unlike an LMS that pushes pre-determined learning content toward learners, an LXP allows learners to choose their own content and even makes personalized recommendations. 
What are the differences between the LXP and the LMS? 
The LMS has been a great solution for the digital administration of learning content, learners, and the facilitators, but not so much in enabling the learning experience itself.  
Here are the key differentiators between the LMS and the LxP:
Push vs Pull

 
The LMS operates on a "push" principle where the admin, teacher, or professor chooses learning content for students and then pushes it to them. In contrast, LxPs are based on a "pull" principle where the students decide what information they need and search for the relevant content themselves. By enabling them to "pull" what they need, learners benefit from a personalized learning experience. 
Democratized content

 
LMSs operate on a top-down approach to learning, where the traditional experts like teachers and trainers create the content and distribute it to the learners. On the other hand, LxPs afford an open system, empowering anyone to share content, creating a social-collaborative environment. Moreover, it paves the way for easy-to-use authoring tools like Easygenerator, which can be used in tandem with an LxP. 
Transactional vs Personalized

 
An LMS is more of a managerial tool used by a central admin department, therefore facilitating top-down learning. In this case, learners do not have the flexibility to decide what and when they will learn but are required to engage in and complete the lessons assigned to them. Unlike LMSs, LxPs allow the learners to choose what they want to learn via personalized learning paths that are often moderated by the teachers. By nature, LxPs offer a win-win situation for both learners and teachers.  
 

Spotlight on Educational Institutes 
This pandemic has caused a strong revelation among educational institutes and corporates alike, leading to major questions: how do we remain relevant in the next 5 to 10 years? Are we riding on the wave of the pandemic? Can these digital teaching and learning solutions sustain future vulnerabilities? Can our teaching fraternity learn the new and advanced technological tools without a lot of learning curve? How else would the students' behaviors change and adapt to the crisis, and will they accept the tools? 

These are the initial questions one must ask while choosing a tool, not only to move online but also to sustain themselves over a longer duration. The current challenge is multifaceted, and the solution lies in a holistic and flexible tool such as an LxP, which has the bandwidth to accommodate learning experiences and adapt to changing times.
Top-down versus bottom-up

 
Tools like LMS and LXP do not dictate how you organize your learning; they facilitate your learning processes. Although the corporate world is moving toward LXPs, there is still the question of whether it is possible for schools. Schools are top-down oriented. It is the school, the program, and the teachers that determine what and when to learn – not the student. Such a top-down approach is best facilitated by an LMS. No matter how modern, open, and innovative LxPs may be, they will not be relevant to schools that do not adopt a bottom-up learning approach.
That said, online learning institutes can already implement bottom-up learning as, here, the student has more say over their experience. I see some bottom-up initiatives in regular schools. For example, the 'flipped classroom' model is at least only semi-top-down. But in general, I do not see much happening in this direction in most educational institutes. And if the teacher dictates the program, there is no need or room for an LXP.
Conclusion

 
Returning to the question of how to remain relevant over the next 5 to 10 years, this might be a crucial observation. Education and schools have not fundamentally changed in a long time, and it is time that they did. If they do not take on a more modern, student-centered approach, they might lose their relevance altogether. It is the schools' job to prepare students for participation in society. Schools should stay connected to the changes in society and adapt to them. The question is whether schools will make it possible for at least part of the learning to be initiated by students. If they do this, a need for an educational LXP will emerge. And if so, it might also be an indication of a change that is necessary to adopt in order to remain relevant for our educational institutes.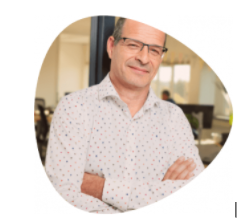 Kasper Spiro is the CEO of Easygenerator and a recognized thought leader in the world of e-learning. With over 30 years of experience, he is a frequently requested keynote speaker and well-renowned blogger within the e-learning community.