The field of education is developing at a very rapid pace and is moving towards the digitalization of all processes. Electronic textbooks have long been common in schools around the world. In addition, schoolchildren studied online for almost two years, and a large part of students continues to do so. In such a massive modernization of how the educational process takes place, the tools of teachers and professors are also changing.
What is used in the modern educational process?
Presentations are increasingly used to effectively explain the material. Projectors and various visual materials replaced the usual blackboard and chalk. With the help of presentations, teachers can quickly organize the necessary information and present it in a format that is understandable for pupils or students. This significantly saves time for both parties and also allows you to easily return to the material already covered by simply viewing the created presentation.
At the same time, students use this tool for better learning of the material. When creating a presentation on a certain topic, you first need to conduct a high-quality search for information. And during the formation of the finished result, the facts necessary for memorization will be repeated many times and won't be forgotten in a few days.
Presentations are very helpful during learning and this is a fact. However, not everyone knows how to properly use their potential and get the best result. For your presentation in the field of education to be effective, we recommend that you listen to the tips that we have collected in this article.
Tips for effective educational presentations
Consider who your listeners are. Teachers and professors must constantly keep in mind the general image of the people who will listen to their presentations. It is worth understanding the level of awareness of a specific topic and, accordingly, choosing the appropriate terminology, the number of facts, and the level of immersion in the material.

Give enough time to prepare content. This applies to both teachers and students. We all have the desire to create the perfect infographic or choose a unique color palette. However, during training, it is worth concentrating on the quality of the information learned or explained. Of course, the visual design remains an important aspect, but platforms with ready-made solutions such as

MasterBundles

exist for this. It is easy to find suitable templates on them, which we will talk about later.

Do some quality research. This item is relevant for students who like to use the first article from the list or insert a bunch of text from Wikipedia into a presentation. Even the best

presentation ppt templates

will not save poorly selected content and unanalyzed information.

Be creative. An interestingly visualized topic will be remembered much better than boring black text on a white background. We recommend all employees in the field of education use as many visual materials as possible and correctly select non-boring

education PowerPoint templates

. As an option, provide audio information, add several thematic videos, and more high-quality photos.

Don't forget the third component of a successful presentation. Most are focused on well-organized text and beautiful graphics. But there is a third component that is often forgotten. It consists precisely of the art of presenting what is shown on the screen. Even the most interesting topic can be spoiled by a boring monotonous presentation. Approach this question responsibly, practice before presenting and adjust the content if necessary.
These tips should make the process of creating presentations easier and improve the final result. If most of the items on our list require additional work from you, the opposite is true with templates. They are meant to cut down on the time you would have to spend choosing fonts, and colors and trying to place all the elements in the best way possible. The main difficulty in working with templates is only in the process of their selection. Such a product can be found on almost all platforms, but it will not always be of high quality and effective enough. That is why we offer a selection of templates for educational presentations.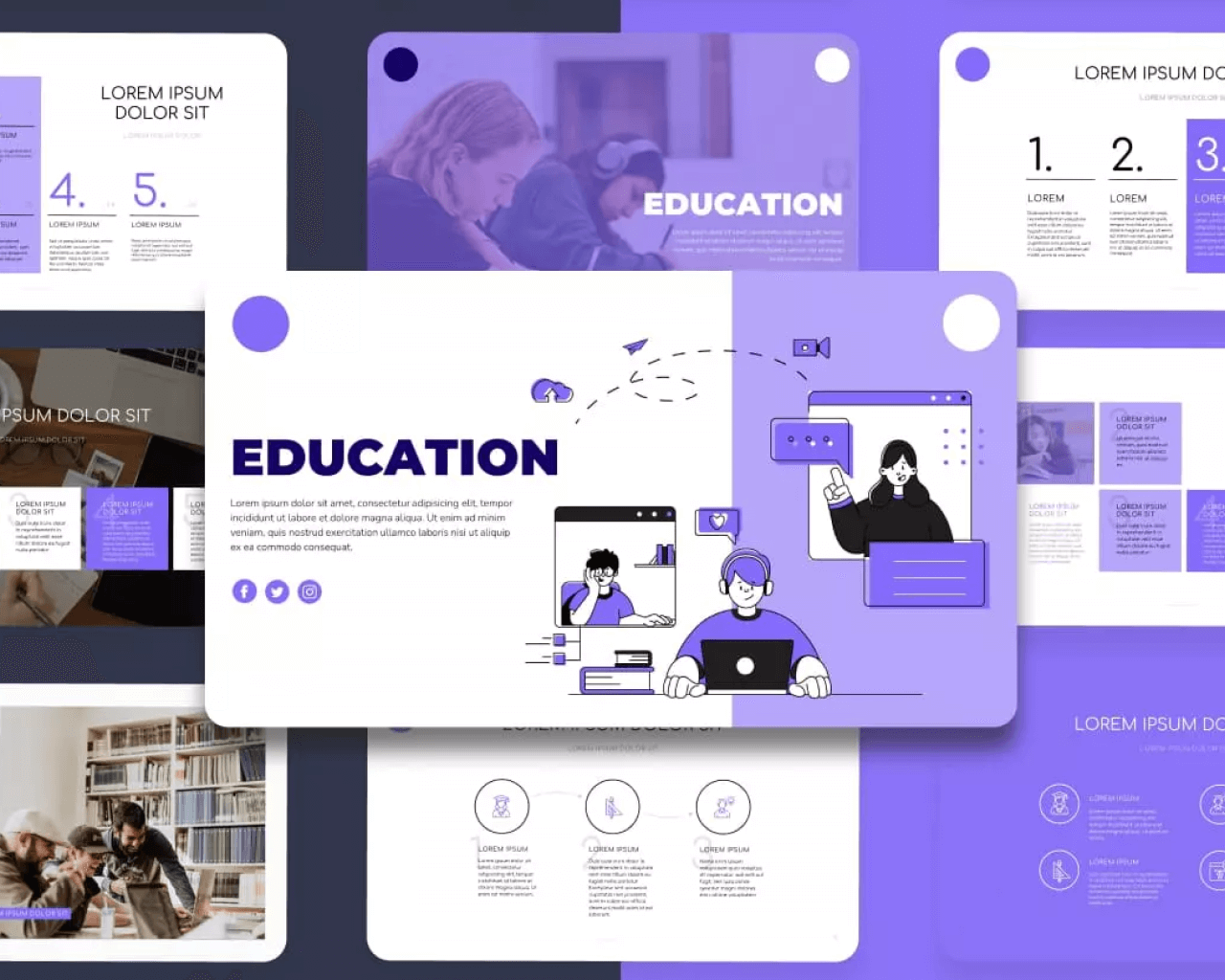 This template offers 50 unique slides that are suitable not only for PowerPoint but also for other platforms. The simple minimalist design leaves room for your creativity and additional changes. The colors are chosen interestingly, but not too much so as not to distract attention from the main purpose of the presentation – to teach.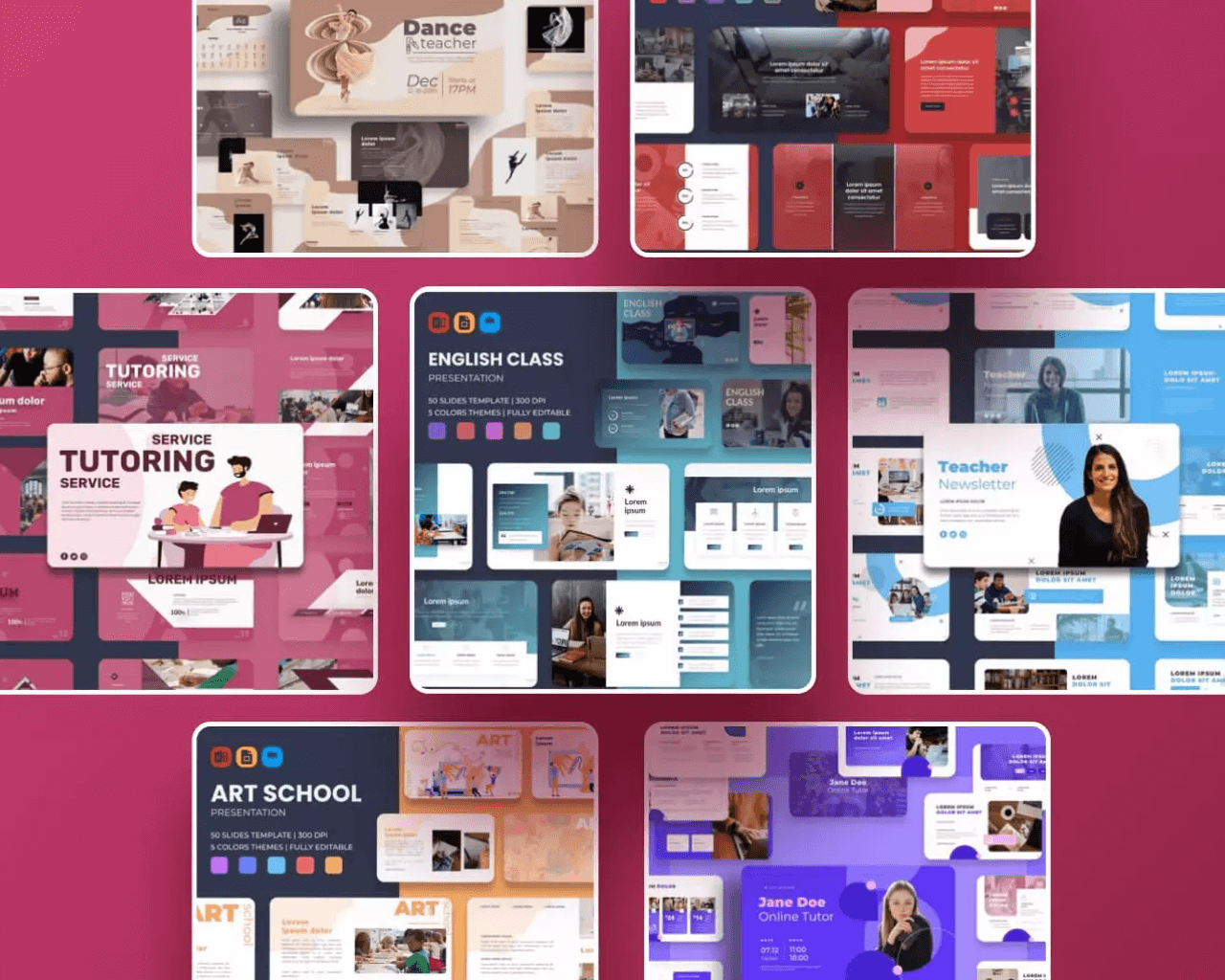 This option is a great find in the world of presentation templates. Here you will find 400 slides on various educational topics. Each of them can be completely changed by you at will. There are 5 ready-made color schemes available in the template, so you don't have to spend time choosing the right shades. The price of this kit is very affordable and provides you with peace of mind and fast creation of presentations for a long time.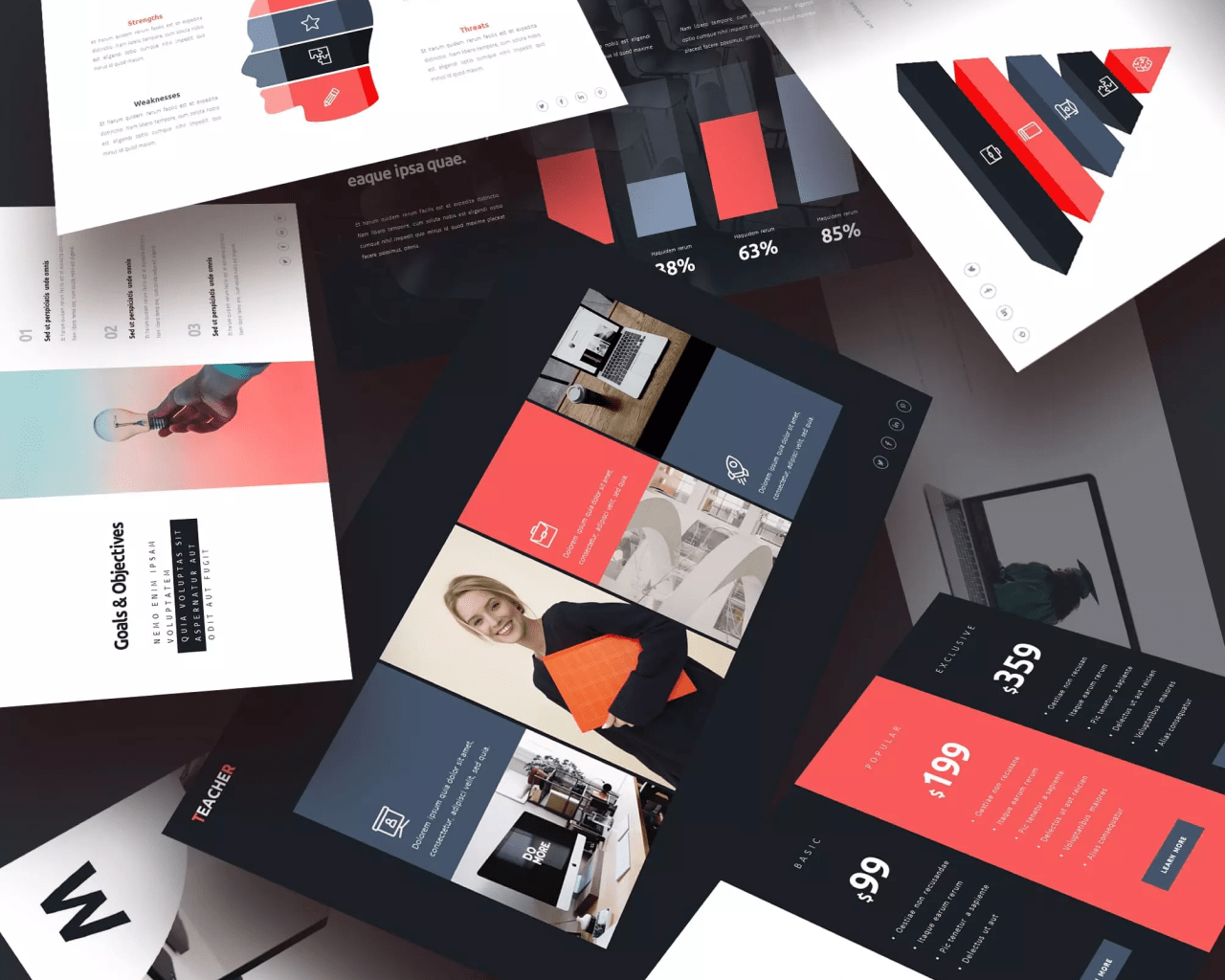 This template is designed specifically for teachers and professors who need to frequently use presentations as an information delivery tool. With the help of 50 ready-made slides, you can quickly design any topic. All graphic content is as universal as possible and suitable for creating a presentation about any field. All colors and fonts are easily editable, and tables and graphs have examples of their use for independent creation.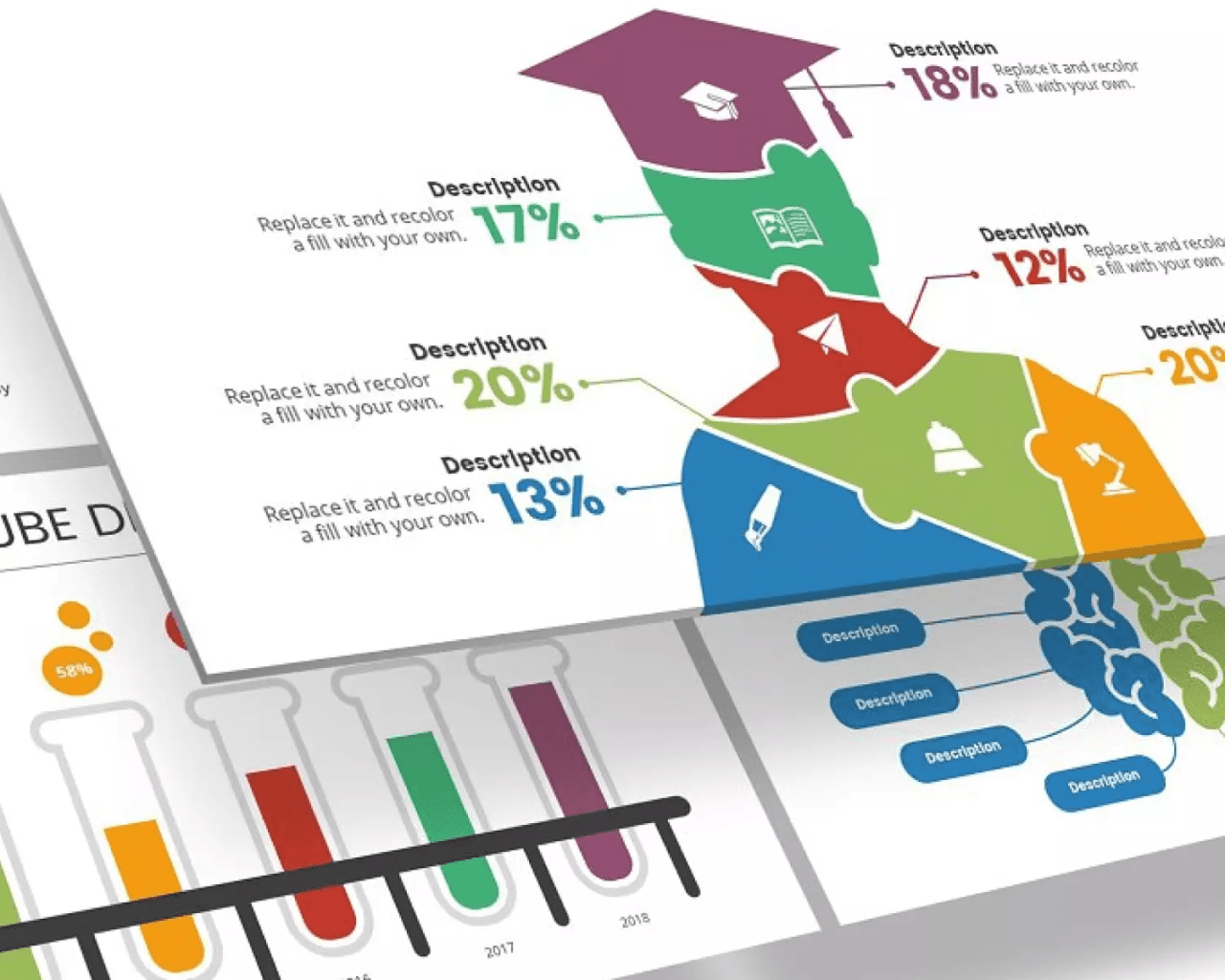 In this small set of 20 slides, you will find all the necessary tools to create the perfect infographic. Designing information in this way is often used during training, so ready-made slides with such graphic design will help you with more than one presentation. All elements can be edited according to your needs, changing sizes, colors, and data.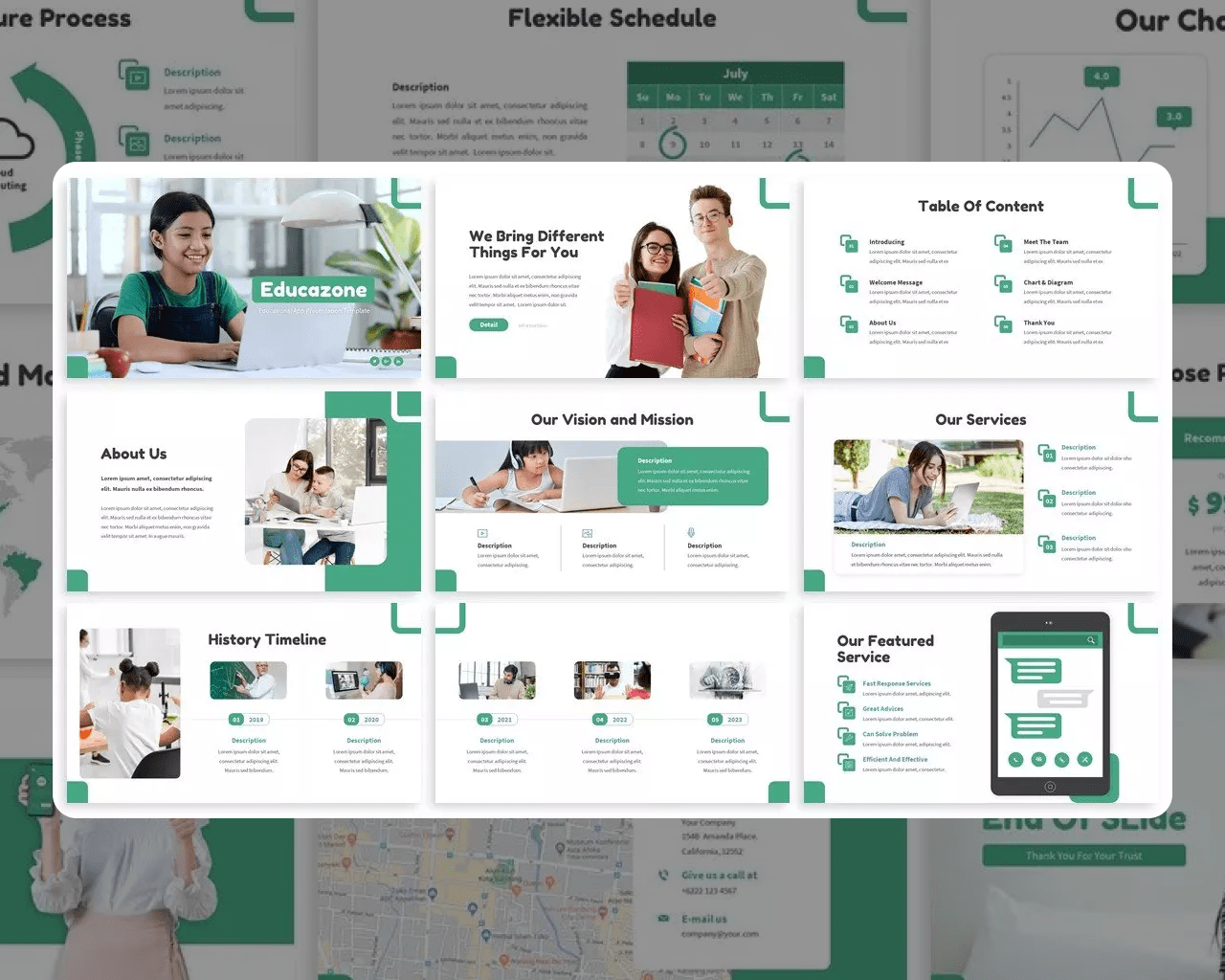 This template is a classic example of a ready-to-use, full-featured presentation. It has a clear logical structure, a large number of slides, and 5 ready-made color schemes. Slides look balanced and not overloaded with unnecessary elements. Also, this template offers dark and light themes as well as support for two image formats: Widescreen and Standard. Another feature of the template is that each slide is animated, which makes it even more interesting to perceive during the presentation.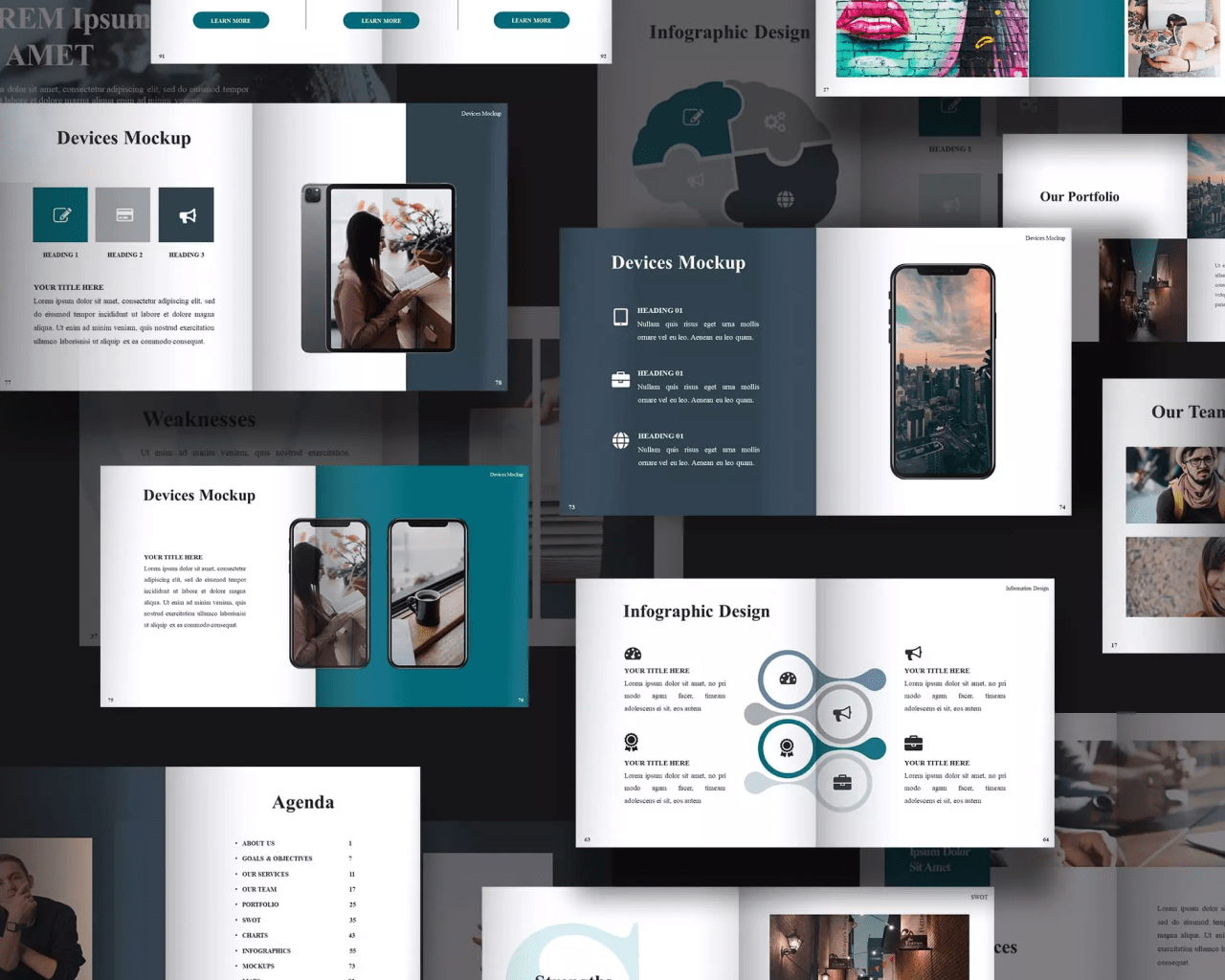 We have shown many universal options, so you can also look at something more specific. Presenting a book while studying is a common thing, so we have found the perfect template for such a case. It offers 50 unique slides, each with tips on how to edit them, and can be completely customized as needed. The template contains all the necessary graphic elements along with examples of their use.
The design of this template is one of our favorites in this selection. The presentation looks very modern and well-balanced. All 50 slides can be easily edited, add your photos and choose the color you want. You will only need to add the necessary information and the presentation will be ready to use. In this way, the time for editing and choosing a design will be reduced to a few minutes.
Conclusion
Presentations are an indispensable tool in the learning process. They are actively used by teachers and professors to present material, as well as pupils and students to study topics and present their knowledge. Digitization of education does not stand still, as do methods of information design. In the case of presentations, ready-made presentation templates can greatly facilitate the process of their creation and save time for more important educational tasks.