"Formal education will make you a living; self-education will make you a fortune." – Jim Rohn
It is an undeniable fact that technological advancements have completely transformed the world. Modern technology has paved the way for businesses by providing new, digital marketing channels. These technological breakthroughs have not just impacted a few industries, such as marketing or manufacturing, but have revolutionized the educational sector as well. 
A study by Gartner revealed that virtual reality and augmented reality are set to make a significant impact on higher education. This proves that to make the learning experience better, incorporating technology has become a dire need for educational institutes. 
But before we understand how modern education can assist you in succeeding in today's tech-oriented world, let's understand what modern education is. 
Modern education primarily relies on technological innovations, including the internet and computers, for providing education. Additionally, this primitive method of education encourages independent learning for boosting students' self-esteem, and enhancing their problem-solving skills.
Still not sure how modern education can help you outshine in the current tech-driven and highly competitive world? Here are the top 5 benefits of modern education that you need to know:
1.It Eases Access to Educational Resources
Previously, students had to depend on books, and notes provided by their teachers. Also, carrying a pile of books everywhere was a difficult task for students. However, modern education has brought information from all around the world on your fingertips in the form of smartphones. This lets you expand your knowledge base, and develop effective research skills. 
Now, you can easily get the information you need either in the form of eBooks, or informational material available on the internet.  
Moreover, the ease in accessing educational resources during the COVID-19 phase gives a chance to enhance your individual learning capabilities, without having to rely on teachers for answering queries. Therefore, making you more empowered, and prepared for the corporate life. 
2.It Democratizes Education
Research shows that tutoring in the US is a $ 7 billion dollar industry and a popular franchise option, either based out of the home or at an on-site location. This means that only a limited number of people are privileged enough to afford the expensive fee of schools and colleges.  
However, modern education does not just provide you with better ways of learning, instead, it equalizes educational standards by making it accessible to all. This is because online platforms, mobile apps, and modern learning formats have made it possible for you to enroll in different courses conveniently. 
So, in today's era, despite the pandemic, if you have internet access and a device, you can easily gain information about several topics, and make it to your dream job. 
3.It Improves the Learning Experience
According to a study by EdTech Magazine, 85 percent of teachers believe virtual reality will have a positive effect on their students.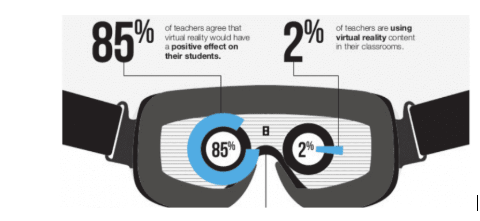 Not sure how virtual reality can be leveraged in your classroom? Let's understand this with the help of an example. During your history class, your teacher can give you the opportunity to explore a historical place with the help of virtual reality. This will allow you to walk around that place and discover different ancient aspects through data gloves. 
Such an experience is going to be more learning-oriented for you compared to boring class lectures where the teacher keeps talking, while the students are required to listen quietly. 
Therefore, by integrating modern technology in class lectures, teachers can create innovative and creative coursework to keep you engaged and attentive, giving you the feeling that you study in the best environment like a private school in Silicon Valley or any other region. Needless to say, that learning through these advanced methodologies makes you more aware and professionally equipped. Thus, allowing you to prove your mettle in the professional world. 
4.It Provides Personalized Learning Opportunities
According to Statista Research, 43 percent of college students identified digital learning technologies extremely helpful for doing homework in 2016. Thus, modern educational methodologies enable self-paced and independent learning, which gives you a chance to opt for the courses of your choice. And similarly, you can learn the skills that you think will help you perform better in the corporate world. 
For example, there are many online education providers who have introduced courses that are specially designed to prepare students for the professional world. Wondering why enrolling in such courses is important? This is because they can help you polish your communication, problem-solving, and entrepreneurial skills. 
Besides this, personalized learning opportunities don't just benefit students in the business world but are helpful for teachers as well, as they allow teachers to create a more collaborative environment, resulting in higher student engagement. 
5.It Facilitates Interactions with Experts Around the Globe
As the advent of the internet has reduced geographical barriers, modern education lets you learn from experts from anywhere around the world, hence enhancing your knowledge. For example, online learning platforms offer courses from different universities and companies for learning the latest skills, and ensuring a high in-demand career.  
Other than this, modern education has not just been introduced for high-level degrees in universities, but even schools are incorporating them for uplifting the learning curve. 
Such distant learning options give you more control over your education, and inculcate self-drive and discipline. Research conducted by shiftelearning.com shows that e-learning increases the retention rates by 25-60 percent.
Apart from this, with the ongoing COVID-19 outbreak, modern educational strategies are the only solution to reduced learning disruption worldwide. Moreover, many WHO experts have warned that COVID-19 is here to stay for a longer time period. Therefore, to stay on track, the shift from traditional ways of teaching to modern methods has become a must. 
Final Words
Businesses continue to integrate digital trends across their operations however, many professionals and recent graduates are not qualified enough to meet these needs. 
In a nutshell, today's qualification needs extension beyond basic grammar, and mathematics. To earn a prestigious job, you need to learn applicable digital and analytical skills. Therefore, by incorporating technology in classrooms, institutions can provide an engaging and motivating learning experience for students. This will help them upskill themselves for the professional world.