How exciting is it to be away from home for uni? It's all fun and excitement until you realize you will be living on your own. Let's be honest, there are chores that your parents have always done for you, and that includes laundry.
You have to juggle studies, extra curriculars, and self-care– these are part of your university life. Although you hate doing laundry so much, it is a necessity. Unless you have several clothes and underwear to use, your laundry can wait until school breaks and wash them at home– that is almost impossible.
Now is the best time to know how to survive doing laundry while at the University. Here are some laundry tips for university students. Doing laundry is a lot easier than college itself. 
Check for Laundry Facilities Around
You might not be familiar with the neighborhood around your campus. Check around for reliable laundry facilities that you can head over to for your laundry needs. You can search for them on the Internet.
Check where they are located. Is the laundry shop near your apartment? What are the services they offer? Do they have dry cleaning services or regular wash and fold? Aside from checking their location, provided services, and equipment, check their reviews. It is best to have social proof of how good they are with their services.
Have a Designated Laundry Day
One of the common problems university students face is their lack of personal time. They are too indulged with their studies and extracurricular activities to forget to take care of their dirty laundry. You do not want to wake up one morning and realize you do not have any underwear left, right?
Prevent this from happening by having a designated laundry day. Look at your class schedule and pick the most convenient time and day of the week to work best for laundry. This is one of the first things you should do once you get into your apartment or university dorm.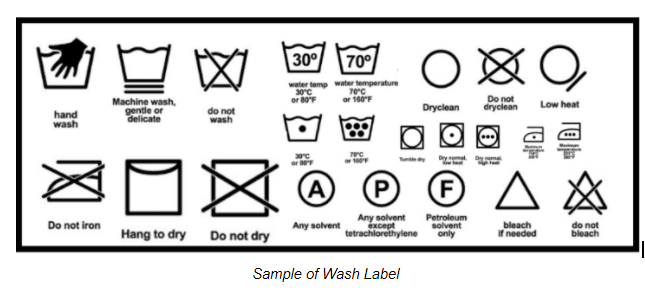 Sort Laundry
It is tempting to throw all of your dirty clothes in one load, but even if you are tired for the week, do not! You have to sort your laundry to ensure the best laundry results.
Separate clothes by color. Do not mix dark-colored clothes and whites. It will prevent your clothes from color running or bleeding.

Wash clothes with the same material. It will prevent them from shrinking, losing shape, or any damage that might incur.

Always check the wash label on your clothes. It has the wash instructions on it. Wash the clothes with the same washing instructions.

If you have delicate clothes, they should be washed separately, or by hand. It depends on its label, or you can ask the professional cleaners at the laundry shop if they can dry clean it for you.

Do not wash the same clothes of different weights. Jeans and other denim items should be separated from the lightweight clothes.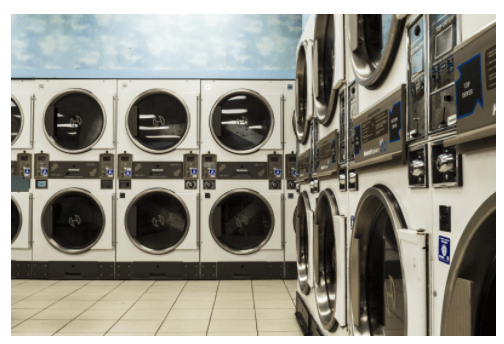 Do Larger Loads
Do larger loads, but not large enough to overfill the machine, or else your clothes will not wash properly. Load the machine at 75% full. If you are not sure how to measure the 75% load, make a thumbs-up between the tub's clothes and ceiling. If it does not fit, then the tub is too full. You have to unload some.
Do not forget to check the pockets of your clothes before putting them in the load. There might be tissues, bank cards, money that you missed to remove while sorting them. These things might cause tiny shreds in your clothes.
Moreover, do not forget to zip the zippers of your clothes and unbutton the buttons. Zippers might get caught and rip the other garments, and buttoned buttons may loosen the fabrics.
Pre-Treat Stains Immediately 
You might experience unfortunate lunch meetings, drink hangouts, or morning rush. You might spill your favorite coffee or food on your clothes– food and drink stains are the worst. Calm yourself and pre-treat the stains immediately. You have to do it while the stain has not settled on the fabric yet. Dry cleaning experts can remove the stain residues and make your clothes back into its shape.
Look for ways on how you can remove specific types of stains. You can do it with common household ingredients, or you may buy and bring around with you a stain remover pen. 
Be Careful with Detergents
Detergents are tricky. There are different types of detergent you can use for your laundry. The leading contenders for liquid detergents are capsules, liquid, and powder. All these detergents do their job of cleaning your clothes, but they have their advantages, that's why you have to pick your favorite.
Powder detergents

: It is a bulky variant and cheaper than the other two types of detergents. The powder is excellent for white clothes. It makes them extra white. Moreover, it removes dirt and grime on heavily soiled clothes. However, it tends to fade colored garments.
Capsules:

Great to use for those who want speed and convenience. However, it cannot deeply clean heavily soiled clothes.

Liquid and gels:

Best choice for keeping colored clothes bright, but they are not the best choice for extra bright whites.
Moreover, you might think using more of them will remove dirt and grime on your clothes and make them cleaner– that's absolutely wrong!
There's a recommended amount for detergents. Only use the right amount of detergent on your laundry load. Putting too much can result in discoloration or damage to the clothes.
Last Tip: If you do not have enough time to do the laundry by yourself. You can leave your dirty clothes in the laundromat and let the experts clean them. However, this is only a possible choice if you have extra cash for laundry services, or else you have to do it on your own. Laundry is an easy task to do if you only have time management and the idea of how to do it properly.